Nikon launches its latest full-fledged FX-format D780 to harness the most out of your imagination
Agile DSLR perfect for both still and videos, featuring powerful autofocus performance and easy-to-use optical viewfinder
TOKYO – From sprawling landscapes to low-angle shots of a skateboarder in action, one can never cease to admire the awe-inspiring wonders of nature and life's astounding moments. Photographers and videographers alike will now be able to capture the best action in swift motion and never have the fear of missing out with the new D780, announced by Nikon Corporation today. This latest model, succeeding the Nikon D750, delivers amazing refinements in image quality, performance and versatility.
The new D780 sets the standard for next-generation cameras featuring evolved autofocus (AF) system with easy-to-view optical view finder and high AF precision in low light situation. As a result, shooting with higher accuracy is achieved with no time lag and better clarity. The D780 is further complemented by NIKKOR's extensive selection of high-performance interchangeable F mount lenses along with improved battery life all condensed into a compact, high performing body.
The D780 is a highly versatile and agile DSLR camera with significant upgrades from the well-loved D750 camera. We've refined the D780's autofocus functions so that photographers can achieve higher focus accuracy when shooting both photos and videos, along with optimization in operation layout and ergonomics so that they can shoot in comfort when they are out and about. A combination of the latest technology from our newest products will also impress the owners of the D780.
Capture Subjects with Precision
Be it adrenaline-filled motor sports in action or once-in-a-lifetime wedding moments, this camera offers two powerful AF systems to suit different situations.
Experience smoother and faster AF accuracy with the advanced 273-point[1] hybrid AF which automatically switches between focal-plane phase detection AF or contrast-detection AF that covers approximately 90% of the image area. Enhanced accuracy achieved with Eye-detection AF[2] is also readily available.
For viewfinder shooting, the D780 uses a 51-point AF with 15 cross-points employing an algorithm equivalent to Nikon's FX-format flagship, the award-winning Nikon D5 that delivers a powerful acquisition performance.
Equipped with the 180K-pixel RGB sensor, EXPEED 6's powerful calculation capabilities and improved AF fine tune greatly increases the precision and accuracy of automatically controlled functions including autofocus (AF), auto exposure (AE), and auto white balance (AWB). Perfect for subject acquisition during night shots and concerts, the D780 excels in low-light illumination AF detection down to -5.0 EV[3] and -7.0 EV4. Swiftly capturing all the action in high-speed continuous shooting at up to approximately 7fps with both viewfinder shooting and live view photography.
In situations where the silence of the clicks are appreciated such as conferences, ballet performances or even key gymnastic moments, the silent photography mode using full pixels with up to approximately 12fps comes in handy and effective. This camera's focus shift automatically takes images while moving focus position from the starting point to infinity (max. of 300 shots) for focus stacking. This makes the camera ideal for jewelry, specimens and landscape photography.
Expressive Moviemaking Capabilities
Featuring an effective pixel count of 24.5 megapixels and high sensitivity at ISO 51200 (expandable to ISO 204800), the D780 also supports 4K UHD with full pixel readout, Full HD/120p[5] recording allowing users to record movies that make the most of wide-angle lenses' and broad angles of view delivering edge to edge sharpness. AF speed[6] and AF tracking sensitivity can also be set during movie recording which means smooth focusing according to creative intentions is possible, utilizing the advantages of focal-plane phase-detection AF.
For serious movie creations for the videographers and video creators, enjoy the 10-bit N-Log[7] profile or the new HDR (HLG[8]) profile for true-to-life movie output with HDMI 10-bit output. This HDR (HLG) picture profile supports instant HDR workflow which allows acquisition of rich tonal gradation movies without colour grading.
Increasing workflow efficiency, this camera's timecode output makes it easier to synchronize footage to other movie materials by recording time information. Syncing with equipment that supports ATOMOS Open Protocol is also available in 4K UHD.
The camera's auto time-lapse movie production function in-camera also enables users to confirm the resulting movie instantly after interval timer shooting. Other useful moviemaking features include electronic vibration reduction and focus peaking, making D780 a full-fledged tool for aspiring to professional moviemakers.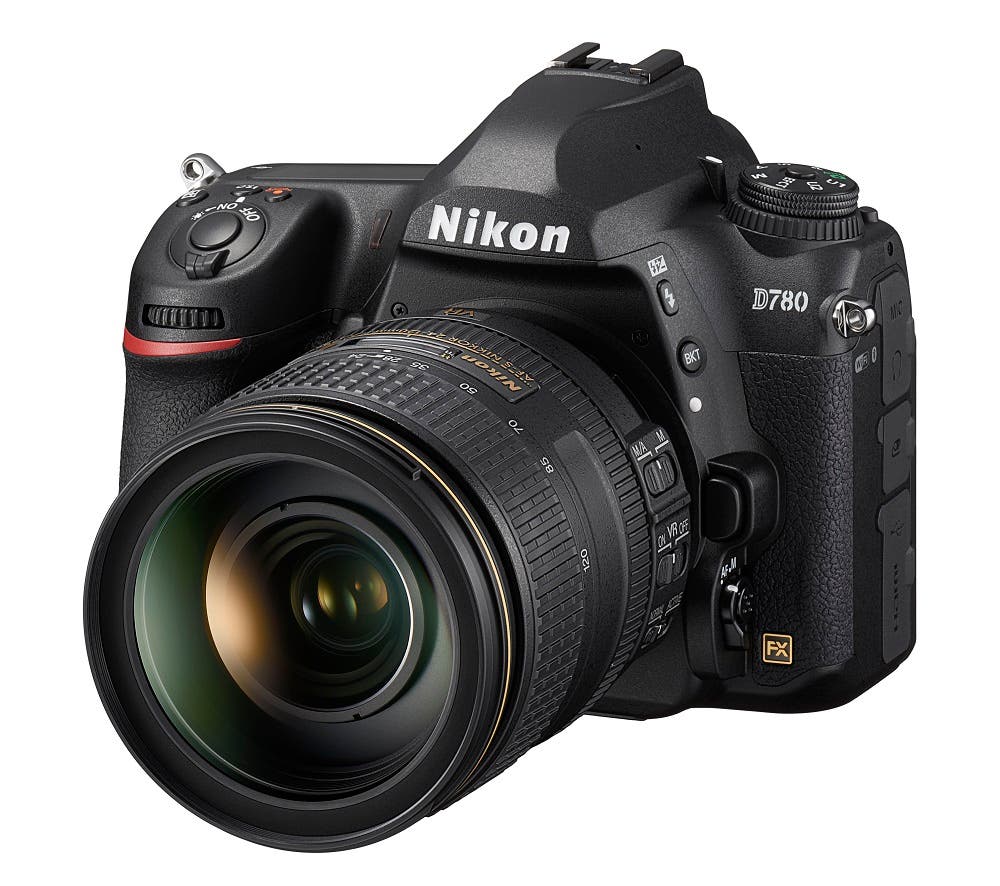 Ingenious operability and connectivity
For those who dabble in long exposure or astrophotography, the D780 is now capable of extending its shutter speed up to 900 seconds making it possible for more creative output. High-Speed Frame Capture[9] of 2-megapixel images at up to 120fps in Full HD movie recording, or 8-megapixel images at up to 30 fps with 4K UHD movie recording, both with AF/AE tracking, are also possible with this camera.
Through the D780's retouch menu, user can adjust the in-camera image overlay to lighten or darken even after shooting. Images adjusted using the Special Effects mode can also now be saved as RAW images.
The D780's touch-operable, tilting, high-resolution, approx. 2359k-dot, 3.2-in. monitor enables detailed confirmation of the subject during playback zoom. The camera features a negative digitizer, using the optional ES-2 Film Digitizing Adapter, that easily converts films into digital data for added enjoyment.
Other significant D780 features include its energy saving design that supports longer shooting time, and a double memory card slot compatible with UHS II SD cards. For the user's comfort and ease, the retouch menu sees changes with improved trim and resize options, while a new user interface with flexible and easy-to-see i menu is introduced. These features enable users the ability to capture their creations with much ease and convenience.
Responding to a wide range of communication needs, the D780 also features SnapBridge with RAW transfer and filtering settings, Bluetooth® remote control operation, together with enhanced built-in Wi-Fi functions and WT-7/A/B/C compatibility.
All in all, making this power-packed camera the perfect tool for just about any situation.

[1] With recording of still images using the FX (36×24) image area and single-point AF. 231 focus points with movie recording
[2] With live view photography in auto-area AF mode
[3] 231 points during movie recording
[4] In still photography with settings at f/1.4, ISO 100, 20 °C/68 °F, single-servo AF (AF-S)
[5] Image area is fixed at FX-based movie format
[6] AF speed setting is not supported for some lenses
[7] Footage is recorded only to the external device; it cannot be recorded to the memory card inserted in the camera
[8] HLG (Hybrid Log Gamma) is a standard for transmission of HDR video to a display for which an external movie recorder is required
[9] When CH, CL, or QC release mode is enabled with movie live view. Photos will be recorded at the same image size and continuous shooting speed as specified for movie frame size/frame rate. Still-image capture is not possible with 10-bit HDMI output